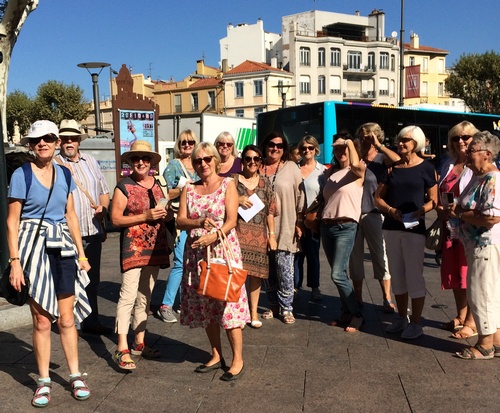 Events cover excursions, concerts and parties etc. of interest to all members.
President's Welcome Party takes place at the 1st members meeting in September 2022.
Christmas Lunch is in December 2022.
17th Anniversary Party is in January 2023.
AGM takes place in June 2023.
Visits, Trips and Excursions – both near and far
2013/14 – visit to Uzes and Pont du Gard. Trip to Narbonne.
2014/15 – excursion on the Petit Train Jaune and Villeneuve de Confluent. Klimt Exhibition at Les Baux-de-Provence with lunch in Arles.
2015/16 – December: Christmas Lunch at Auberge de la Tour, Valros. March: Limoux Carnival. April: Roman Games in Nîmes.
2016/17 – Montpellier guided tour followed by visit to Frédéric Bazille exhibition at the Fabre Museum. Limoux Carnival. Pâtisserie class. Girona Flower Festival. Summer party at La Mouche art gallery north of Béziers.
2017/18 – Perpignan International Festival of Photojournalism, Amphoralis Gallo-Roman Pottery Museum in Sallèles-d'Aude, Orchid Festival at L'Abbaye de Fontfroide, Marseillan with WIC Languedoc Roussillon, Aigues Mortes, Summer party.
2018/19 – Perpignan Dufy exhibition + International Festival of Photojournalism + Palais, Walking tour of Béziers, Summer party.
2019/20 – Proposals: Narbonne, Arles, Roquefort & La Couvertoirade, Summer party.
2020/21 – No outings due to Covid 19 situation.
2022/23 – Narbonne,
Other options: Knights Templar Village.
Members are informed of group activities, events and meetings via the monthly Newsletter and flyers.